Seasons greetings Evelyn!
I have been meaning to send photos of Finn. He is so loved and wonderful. Finn is super smart and has been to obedience and continues agility classes which he loves. Extremely socialized, loves people and dogs.
Hoping to add a cat to the mix. Finn is a snuggly dog. So delighted to have him! Couldn't ask for a better dog. Darn handsome, everyone stops me and asks about him! So happy. Wanted to drop a line. Everyone should buy an Irish Terrier from you.
Thank you so much, Finn and Ilona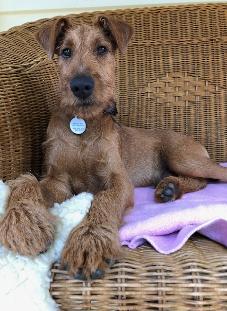 NOTE: Finn is a 5-11-2019 puppy sired by Darby O'Dell and out of Rockledge Vassie O'Roark. Vassie is sired by O'Roark and out of Rockledge O'Larah Oran.