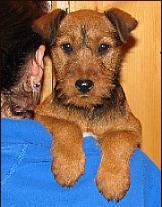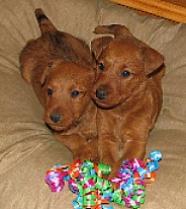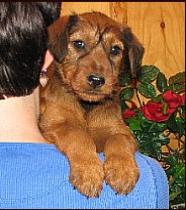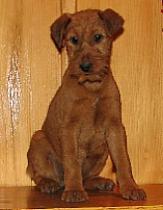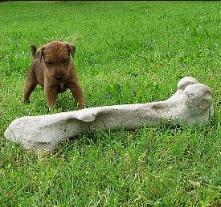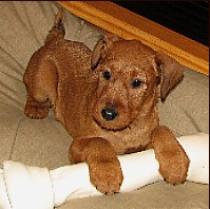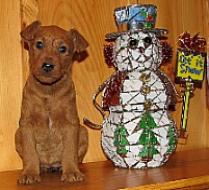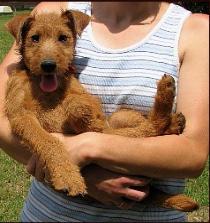 We're located in a gorgeous area of the Ozarks in southwest Missouri. Our ranch is picturesque and secluded.  We're licensed by both Missouri state and USDA. Our dogs are not confined to cement kennels or cages. They have freedom to run and play in grass with trees. They are handled many times a day, petted, groomed, loved and they are our best friends. Our lifetime has been devoted to breeding and raising purebred horses, cattle and dogs. We are professional animal people and have enjoyed much success with our animals on a world wide screen.
We have developed a wonderful sound intelligent strain of Irish Terriers with terrific dispositions. They have their heads screwed on straight. That's horse lingo for intelligence and being able to think things out. In other words, not flaky. They are very devoted family dogs and love kids. They are energetic, playful and game for anything and everything. They will swim, hike, bike, go boating, play ball. They like to be with you and will enjoy what you are doing as long as they can do it with you. But they also enjoy quiet time and will be right at peace lying on your lap watching T.V. The Irish Terriers we imported direct from Ireland are sired by Irish and International Champions. In addition to pet and companion homes we have placed puppies in police work, therapy work, forestry service and now even the movies. And they are wonderful hunting dogs and dedicated retrievers.
The puppies on this page are a random sampling of some we have raised.