Letters and pictures from our customers

"WE BREED OUR IRISH TERRIERS THE SAME WAY WE BRED OUR HORSES - TEMPERAMENT AND INTELLIGENCE PACKAGED IN A NICE BODY. WE WANT THEM TO BE FUN AND STILL SUITABLE FOR EVERY KIND OF WORK IMAGINABLE."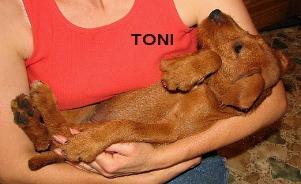 Hello Evelyn and Ed,
HOWDY FROM KNOXVILLE TENNESSEE.  WE PURCHASED TONI, REMEMBER HER OLDER BROTHER, WAS IN THE FIREHOUSE DOG MOVIE, WHICH WE BOUGHT A COPY OF, SHE LIKES WATCHING IT ABOUT ONCE A WEEK. SHE JUST HOWLS AND BARKS AND RUNS AND PLAYS AT THE TV, WHEN WE PLAY IT FOR HER.  HER NEW NAME IS KATEY. YOU SHIPPED OUR LOVING LITTLE BUNDLE OF JOY TO US, I BELIEVE IN SEPTEMBER. IT HAS BEEN A WONDERFUL EXPERIENCE.
SHE HAS BECOME AS CLOSE TO US AS A CHILD. SHE IS THE MOST LOVING ADORABLE PET WE HAVE EVER OWNED. SHE WAS VERY EASY TO HOUSE BREAK AND HAS HER OWN DOGGIE PORCH AND FENCED YARD TO COME AND GO AS SHE PLEASES. BUT, MOST OF THE TIME SHE WANTS TO BE IN THE HOUSE WITH US. HER TWO FAVORITE PAST TIMES ARE OBLITERATING HER NEW STUFFED TOYS.WE GO ONCE A WEEK TO PET SMART AND ALLOW HER TOPICK OUT A NEW ONE ON HER OWN, WHAT A BLAST.  ANDHAVING US PICK HER UP ABOUT A POUND OF  DELI SLICEDANGUS ROAST BEEF, FOR HER SPECIAL TREATS, WHENSHE HAS BEEN EXTRA SPECIAL GOOD.  SHE WILL DOANYTHING FOR THE SLICED ROAST BEEF, WASH THE CAR,CUT THE GRASS, VACUUM THE CARPET.!!! SHE HAS ALSO GOTTEN ALONG WITH KOKO OUR 9.5 YR OLD YORKIE VERY WELL,  SHE HARASSES HIM  A LITTLE SOMETIMES, BUT, WOOH  BE THE DOG OR PERSON WHO IS NOT NICE TO HIM.  SHE IS ALMOST LIKE HIS MOTHER OR SISTER.
SHE LOVES JUST ABOUT EVERY PERSON OR DOG SHE MEETS. I DON'T BELIEVE SHE HAS EVER MET A STRANGER, SHE IS VERY OUTGOING AND SOCIABLE. THE GROOMER AND VET JUST ADORE HER.
THANK YOU , Darrell and Susan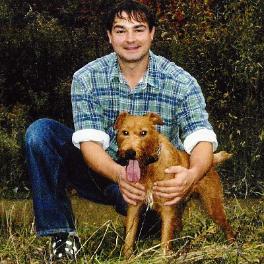 Ryan Contenta with Rommel (Formally Clancey) sired by Elf and out of Bran-Ella Hazyl.
Thanks to Leigh Anne for sending this photo.
Hello Evelyn,
Ryan Contenta is my boyfriend and we got Clancy in November of 2006.  I took this photo last fall and we wanted to share it with you. Clancy was renamed Rommel upon his arrival and has been the best dog you could ever ask for. He has a wonderful temperament, he is playful and loves children and other dogs. He loves his exercise and we love to hike with him all over the Berkshires. There are endless mountains, trails, streams and lakes and Rommel loves every inch of them. His energy is amazing yet at the end of the day he can switch gears and cuddle up on the couch and watch a movie with us. He is the best thing that ever happened to Ryan and we can't thank you
enough for raising such a wonderful puppy and allowing him into our lives. He brightens our every day and brings us so much happiness and joy. Sincerely, Ryan and Leigh Anne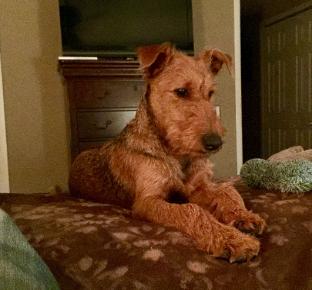 Evelyn,
Just thought we'd drop you a line and tell you Sir Racha McKenzi is doing just fine. He's been working on learning all the tricks. Stay, sit, shake hands, play dead, turn a circle, and lay down.
I've attached a picture to show how well he's doing. Hope you had a wonderful Christmas.
Thanks, W. Scott Wene
Note: This pup is sired by Hoss Cartwright and out of Quinella by O'Roark.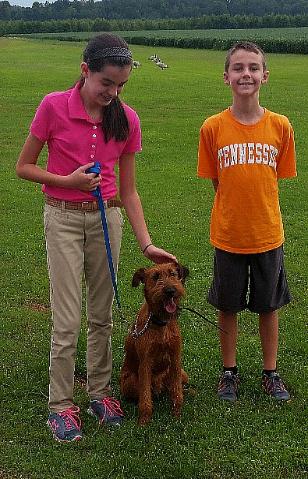 We just celebrated our one year anniversary with Mickey. He's such a smart and playful dog. The four of us are quite fond of him. Thank you for our fur baby! Phillip, Polly, Reese and Garrett Robison
Note: Mickey is sired by Chancer and out of Rilee O'Roark by O'Roark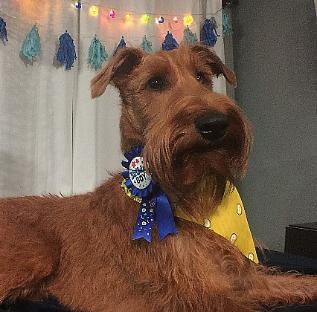 I wanted to take a moment to reach out and say hello and also to share a photo of Hudson on his first birthday (yesterday). We love him so much and can't thank you enough for bringing us together.
Best, Dayana & Andrew Diaz
Note: Hudson is sired by Clancy and out of Tilli by Chancer (Imported Champion)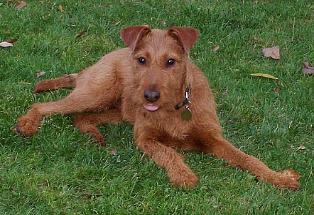 COPPER (ELF & BRAN-ELLA-JEAN)
Copper is an amazing dog. She is very smart and is catching on quickly to the obedience training. She loves to play with the kids. What a wonderful breed! Tonya
OUR THANKS TO TONYA FOR SENDING THIS PICTURE
This is a picture of Honora Erin (Nora) with our son Liam. We adopted Nora in December '04. She was born October 18, 2004 as the offspring of Rockledge Major Blue and Rockledge Irish Imprint.
We love her very much and she's become such a vital member of the family. Regards, Dan and Peg
NOTE: THIS PUPPY IS 3/4 DIRECT IRISH IMPORT FROM A LINE OF IRISH AND INTERNATIONAL CHAMPIONS.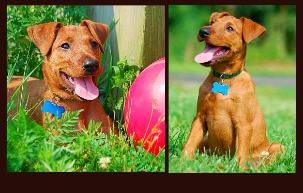 As you can see Remy is doing well....we're almost up to his training standard. Just an update with a sincere
Thank You
From the Moore Family.
THANKS TO
Mike, Donna , Mike , Colleen and Fenway
FOR THESE ADORABLE PICTURES !!
THANKS TO THE DELGADO'S FOR THE GREAT PICTURES !!
Hello from Olive Branch,
We just wanted to send you some photos and a quick
update on Lucy (formally Foxette). She has been such a
wonderful dog for us. Obedient, but with a good amount
of spunk, she's a quick learner and a fast friend to
everyone she meets. We take her to the dog park as
often as possible, and she's always the one to initiate
play, with both dogs and people. She just makes it a
point to introduce herself to everyone. Lucy comes with us every day to work (my husband has his own law firm), and she just lightens up the atmosphere, keeping stress down to a minimum for anyone who needs a break from the day. All of our clients who come in love to play with her, and she does especially well with kids- she thinks they're just the right size. We're thrilled about how well she does with children- one week after we got Lucy, we found out I was pregnant! I'm due next month and I know she's going to be a terrific big sister. She has spent many nights with me on the sofa curled up to my belly so she can feel the baby kick- she just seems to know that that's her baby brother in there. Lucy is our sweetheart and our best friend. She keeps us entertained and constantly amazes us with her intelligence and vivacity. Thank you so much for breeding her- we couldn't possibly imagine life without her now.
David and Mary Delgado
P.S. Shredding the mail for us is one of her favorite pastimes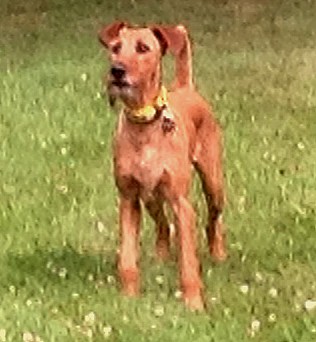 Evelyn,
Thank you again for this wonderful little girl. She is so beautiful, sweet, funny and always keeps us laughing. She loves to meet other dogs on our walks and I'm asked all the time "what kind of dog is she"? Apparently, Irish Terriers are not common in my area. She has capture everyone's heart. Thank you again! Claire Koffman
Note: This puppy is sired by Chancer and
out of Bran-Larah Oran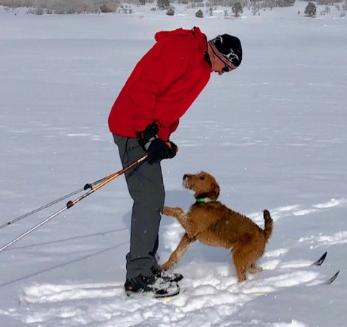 Dear Evelyn
We are so very happy with Quinn - now 6 months old. He has been such an easy and joyful addition to the family - and enjoying our epic snow winter here in Southwest Colorado.
Linda Avery
Note: Quinn is sired by Red Whiskers and
out of O'Larah Oran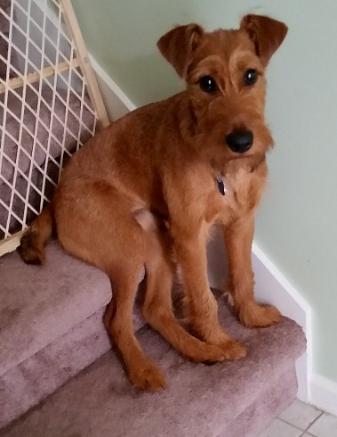 Hi Evelyn,
I have been meaning to send you a long overdue thank you note! We purchased our boy Jameson from you last year. I can't thank you enough for breeding such a great animal! He is very healthy – no issues to report at all. Jameson is a super smart and loving dog. I will say everything you read about the breed you get – he is full of energy, fearless and a lover. He has quite a personality and fits in great in our home. We were nervous to have him flown to us but he was unfazed. I have pictures attached of our growing boy. I get stopped every day by people that want to meet Jameson. He is so friendly and well behaved more people should know how great this breed truly is! Thank you again for keeping high standards and providing great puppies for our families!
Anna M.
Linda Avery
Note; Jameson is sired by Chancer and out
of Nutmeg by Elf.
HIGHLY RECOMMEND KENNEL- WE LOVE OUR IRISH
We bought our very first puppy from Rockledge 7-07, an Irish Terrier. I was scared about the whole "puppy buying experience" but I had done a lot of research into the breed and the breeder. I have to admit, I was hesitant at first about buying a puppy sight-unseen all the way from Missouri, but after checking references and such... buying from Rockledge was the best decision!!! They were wonderful to deal with!! We had our puppy flown to us and this also went GREAT. I think the flight was less traumatic than a long car drive. I would be very happy to give any tips to those looking at buying their first Irish Terrier and would be happy to answer any questions about our dealings with Rockledge. Please email me your questions. We would definitely buy from them again. Karrie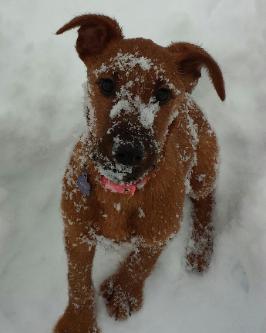 Howdy!
Attached is a picture of Lucy; #4500 from the Halloween litter. She absolutely loves the snow and has been doing great! We also have another male terrier 5 years old & 40 lbs, Lucy at about 10 pounds now gives him a run for his money! We've been shocked at how well the two dogs have become buddies! Thank you!!
Dave Bicknell
Note: Lucy is sired by O'Roark and out of Patti Puddlekins by Bran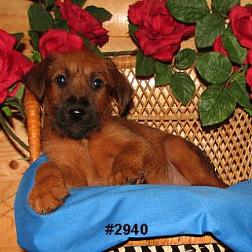 Dear Evelyn,
Sorry for the late note to thank you for your professionalism and for providing me with a healthy and energetic puppy. I named him Fergus.
Regards, R. Crume
Note: Fergus is sired by Darby
O'Dell and out of Red Baroness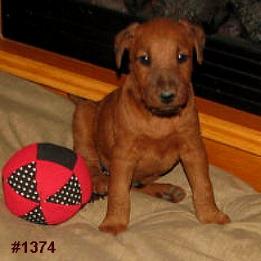 Hello
Just an update on the puppy we bought from you Jan 2017. His name is Colonel. He is the nicest and smart dog Debbie and I have had. He completely obedience trained. He has a large farm that he happily patrols. He is extremely alert, he lets us know about everything that happens on the farm. He gets along great with the kids, grand kids, and other dogs. We could not have picked a better breed dog he also does trips camping when we can get away. He is so well trained that most of the time in public, he can be off lead. We would be happy if you used us a reference. We have been exploring getting a friend from you, maybe a girl.
Vernon Eppard Jr
Note: Colonel is sired by O'Roark and out of O'Larah Oran by Bran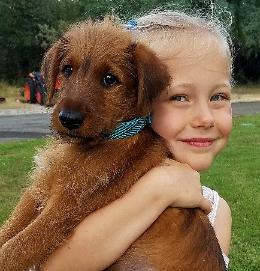 Hi Evelyn I wanted to give you a update. The puppy we call Thunder arrived in good health. He is so happy he is such a good boy!! He loves to play a lot and sleep. Thunder well sleep all night with one or two times getting up for pee. We love him so much. Thank you Richard McBride
Note: Thunder is sired by Red Jackaroo and out of Unique by Chancer.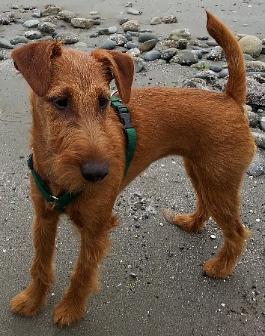 Hi,
I have chip #4414 born sept 15th. Her name is Mayhem and I just wanted you guys to know she is doing awesome! We survived our first stripping and she's about to start nosework classes to keep her busy until she's old enough for agility. She has an extraordinary hunting instinct and loves to please. Easily the smartest dog I've ever trained! Everyone compliments on how good her manners are in public and how good she looks. Thank you for a great dog.
-Ashley
Note: Mayhem is sired by O'Roark and out of Bran-Larah Oran by Bran