AKC Irish Terriers For Sale
NEW PUPPIES HAVE ARRIVED - CHECK AVAILABILITY

eMail us for more information.
If the click on for eMailing above does not work in your system, copy and paste our eMail address to your eMail system
PLEASE BE AWARE THAT OUR
TELEPHONE IS NOT WORKING WELL AND PROBABLY WILL NEVER BE REPAIRED TOTALLY FOR SEVERAL MORE MONTHS (OR YEARS) - PLEASE EMAIL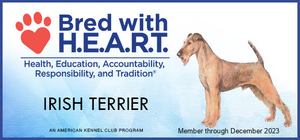 Our puppies are very social and will adapt well to their new homes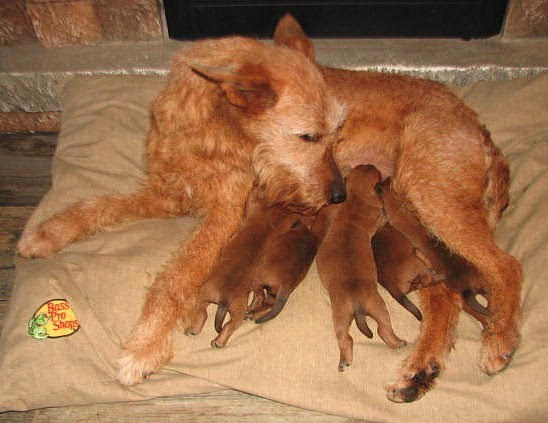 New puppies have arrived.  They are AKC and have an excellent pedigree

. Several national and international champions in this pedigree and the sire and dam have both been DNA tested for 29 genetic health predispositions and none were detected.
We have several people on the waiting list for puppies so I have to offer these in order which means there probably won't be any extras. But don't be discouraged – we will be expecting another litter this spring. It's important that you send an eMail and get your name on the list as soon as possible. When we send out the litter announcements we include a lot of information - more then you probably want to read - but it's all important that you know all this good stuff so you can make an informed decision. Remember the purchase of a puppy is a life time commitment. And what better to share it with then one of these marvelous dogs.
We strive to keep our prices as reasonable as possible which is not always easy with the current increase in operating costs.  It's important to us that everyone should have a chance at owning one of these amazing dogs.
From Virginia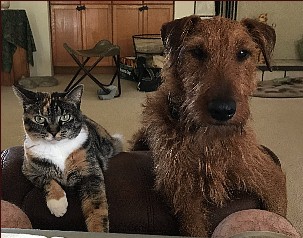 Just an update on the puppy we bought from you Jan. 2017. His name is Colonel. He is the nicest and smartest dog Debbie and I have had. He completed obedience training. He has a large farm that he happily patrols. He is extremely alert, he lets us know about anything that happens on the farm. He gets along great with the kids, grand kids, and other dogs. We could not have picked a better breed of dog. He also does trips, camping when we can get away. He is so well trained that most of the time in public he can be off leash and has declared the console of my truck HIS. He travels all over the states sitting in his spot. We could go on forever about Colonel. Just know he has a farm he patrols and loves people. I think he and kitty are spoiled. We would be happy if you used us as a reference. Vernon Eppard, Jr., Virginia.
NOTE: Colonel is sired by O'Roark and out of Rockledge O'Larah Oran by Bran (Imported from Ireland).
From Maryland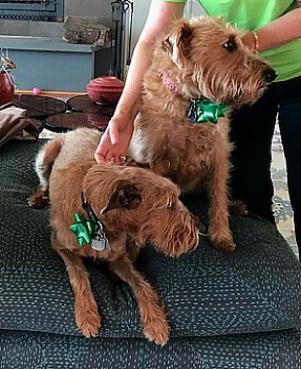 I thought you might like to see our wonderful Irish terriers from your kennel. We recently lost our older one, Quint to cancer. He was such a great friend and companion, we miss him so much. Pip is five years old and is so sweet
.
Thank you for your devotion to the breed! Without you we would not have the opportunity for such incredible friends.
As we discussed this morning my wife and I would like to purchase another Irishman from you.
God bless you for all your dedication to the breed they bring so much joy to the world!
Sincerely, Tom & Peg Rice
NOTE: Pip is sired by Chancer (Imported champion) and out of Plenty Pretty by Bran.
From Iowa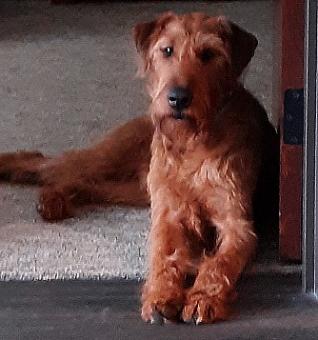 Evelyn--I keep meaning to message you about this wonderful puppy I purchased from you last spring. Being a veterinarian, I was quite nervous about buying a pup sight unseen, and then, having him flown here at the tender age of 9 weeks.
But---he has been the best puppy!!! Healthy and hardly, and always so cheerful! I picked him up at O'Hare, worried that he would end up being a nervous traveler, but he ran out of the kennel, and took in the airport like he owned it.
He was easy to house train, and is SO smart! Well, anyway--he turned 1 year old on January 31st, and if I ever find I need another Irish terrier, you will be the first call I make!!
Enclosed is his 1 year birthday picture--he is incredibly handsome!
Thanks again,
Dr. Jane Leigh
NOTE: This is a 2018 puppy sired by Hoss Cartwright by Chancer (Champion imported from England). His dam is O'Larah Oran by Bran (Imported from Ireland).
Bridee is now 13 years old and learning Freestyle dance. This video shows Bridee's third time dancing Freestyle.
Thought you would like to see what the wonderful Irish Terrier that you sold to us thirteen years ago is doing now.
Just like you said. She is a natural bird dog. She loves to retrieve. She measures exactly 18 inches and weighs 23 pounds. She is smart and she's a loyal family dog and kid proof. To date she has had no health problems. Thanks for a great little dog. Kay Acres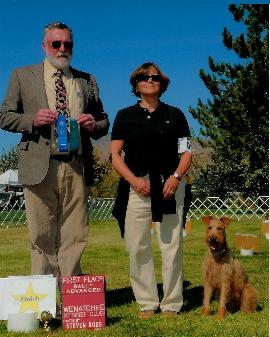 Bridee winning one of her many awards in Agility and Field Trials.
Note: Bridee is sired by Major Blue (imported from Ireland). Her dam is Rockledge Irish Ivie by Bran (imported from Ireland).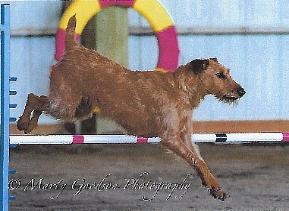 Here are some pictures of Gracie at agility trials and in the field. She really does love bird hunting - both quail and pheasant. On this day of the pheasant hunt she was the only dog used and she flushed 10 birds and we were able to get 9, all of which she retrieved. She had a qualifying score at the last two of her trials and two first places! She also passed the therapy dog test and has her certification for that too. You can tell how much we care for this dog. Beth Wooderson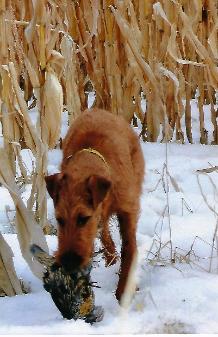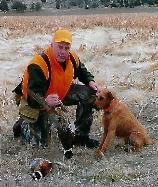 NOTE: Gracie is sired by O'Roark and out of Rockledge Bran-Larah Oran by Bran (imported from Ireland).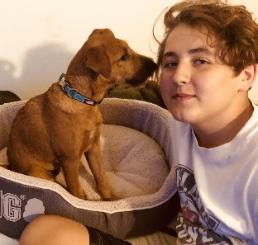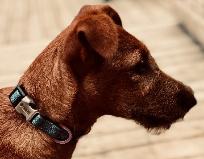 NOTE: Shauna is an 2018 puppy sired by Darby O'Dell and out of Rockledge Leprechaun Lady by Little Joe Cartwright.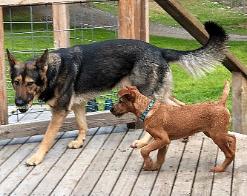 Shauna aka Poppy is fitting in like she's been here forever! What a funny, happy, and loving little pup she is. We are so happy with her and she's getting along great with her new big sister. She is very impressed with everything big dog Beya is doing. I can't thank you enough for this little vivacious light in our lives. Kristen Huntingford
Seasons greetings Evelyn!
I have been meaning to send photos of Finn. He is so loved and wonderful. Finn is super smart and has been to obedience and continues agility classes which he loves. Extremely socialized, loves people and dogs.
Hoping to add a cat to the mix. Finn is a snuggly dog. So delighted to have him! Couldn't ask for a better dog. Darn handsome, everyone stops me and asks about him! So happy. Wanted to drop a line. Everyone should buy an Irish Terrier from you.
Thank you so much, Finn and Ilona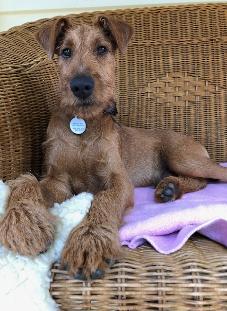 NOTE: Finn is a 5-11-2019 puppy sired by Darby O'Dell and out of Rockledge Vassie O'Roark. Vassie is sired by O'Roark and out of Rockledge O'Larah Oran.
From Texas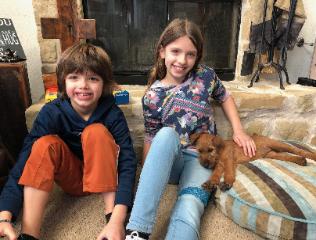 Evelyn,
We wanted to take a second to share how happy we are with our new puppy. The kids had no idea she was coming and were 100% surprised. She is all puppy and wants to play and chew everything in sight. We named her Chloe and we just love her.
Jason
Note: Chloe is a 11-18-2019 puppy sired by Darby O'Dell and out of Ula O'Roark.


PLEASE NOTE: WE DO NOT COLLECT ANY INFORMATION FROM VISITORS TO OUR WEB SITE TO SELL OR SHARE WITH ANYONE. YOUR PRIVACY IS IMPORTANT TO US AND WILL BE RESPECTED.
From Missouri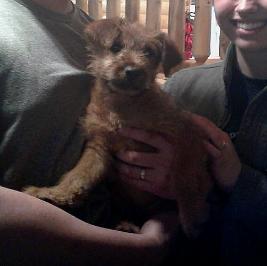 Hi Evelyn,
We got our wonderful Irish Terrier pup from you all back in March and today is her 1st birthday! I wanted to share with you the joy and love that our red daredevil, Ava, has brought to our lives!
Her endless energy matches her capacity for love and sensitivity to others. Ava is abundantly adored by many, including ourselves! She always keeps us on our feet, but for a couple who enjoys hiking, walking, and camping she has been an excellent match!
In May we began a 16 week obedience training class which was first met with the typical terrier stubbornness, but soon lead to Ava enjoying the work and becoming most improved in her class. She's a very quick learner, although she sometimes seems to have a bit of selective hearing, haha!
We decided to learn hand-stripping to preserve Ava's beautiful wiry coat, but it took us a while to get around to it so we talked with a groomer for some tips and tricks.
Ava is loving, loyal, friendly, agile, playful, and a devoted companion! We are so grateful that we found Leopard Horse Ranch, because our irish lady means the world to us!
Thanks for breeding these amazing creatures! I hope all is well with you and your family!
Sincerely,
Brooke, Jared, and Ava
Note: Ava is a 1/22/2019 puppy sired by Little Joe Cartwright and out of Leprechaun Lady
From Canada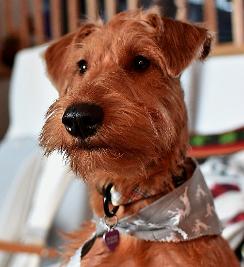 Hi Evelyn, we wish you an happy new year and send you a photo of Ippa our smart lovely and funny dog.
We love her so much.
Audrey
Note: Ippa is a 5-11-19 puppy sired by Darby O'Dell and out of Rockledge Vassie O'Roark.
From Canada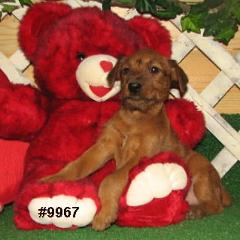 Hi Evelyn, we wish you an happy new year and send you a photo of Ippa our smart lovely and funny dog.
We love her so much.
Audrey
Note: Ippa is a 5-11-19 puppy sired by Darby O'Dell and out of Rockledge Vassie O'Roark.